News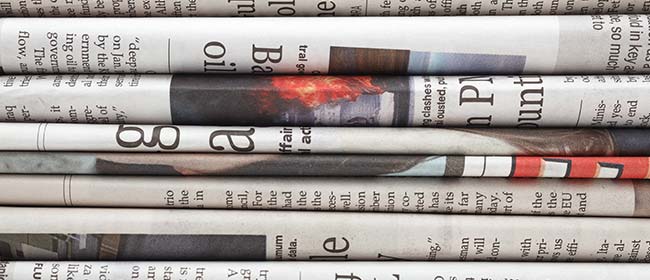 Coronavirus Update
During this difficult time, Lever & Co remains committed to providing services to our clients as much as is possible. However, in line with the advice issued by the Government, we will not be meeting with clients in person and will make alternative arrangements suitable for clients on a case-by-case basis.
We will continue to review the position in line with the Government's advice and, in the meantime, we send our best wishes to all.
Contact numbers
Office: 01279 758 760
Angela Lever: 07957 377 587
Gerard Feeley: 07949 230 532

---
'Call in for a Cuppa' open house Friday 1st November 2019
We will be hosting our 'Call in for a Cuppa' open house event on Friday 1st November 2019 to mark the firm's 8th anniversary and also to raise funds for St. Elizabeth's, Much Hadham. We would be delighted if you could join us and should be grateful if you could kindly RSVP if you are able to attend.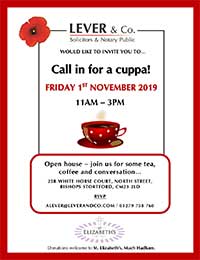 click to download flyer
---
Lever & Co. are exhibiting at the Bishop's Stortford Means Business exhibition
Lever & Co. are delighted to be exhibiting at the Bishop's Stortford Means Business exhibition on Wednesday 16th October at the Rhodes Centre, South Road, Bishop's Stortford CM23 3JG. We will be located at Stand 55 so please do come and say hello and find out more information about how we may be able to help you. You can find more information about the exhibition at www.bsmb.co.uk/.
---
Office of the Public Guardian (OPG) to refund registration fees
The OPG have launched a fee refund scheme following the discovery that they had been overcharging for the registration of powers of attorney between the 1st April 2013 and the 31st March 2017. This applies to both Enduring Powers of Attorney and Lasting Powers of Attorney made in England and Wales.>
The amount that can be reclaimed depends on the date the fee was paid to the OPG and details of this, and the online form for making the claim, can be found at www.gov.uk/power-of-attorney-refund.
If you do not have access to the internet, or you do not have a bank account, then it is possible to make a telephone claim instead using the contact details below. >
OPG Refunds Helpline
Telephone: 0300 456 0300 (choose option 6)
Textphone: 0115 934 2778
Monday, Tuesday, Thursday, Friday 9am to 5pm
Wednesday 10am to 5pm
The OPG are estimating that it will take up to 12 weeks to process claims.
---
Make A Will Week - 5th to 9th March 2018
Lever & Co will be supporting Isabel Hospice Make A Will Week again this year, as they have done for the past 6 years. Last year the Firm raised a total of £7,362.50 in donations, all of which went directly to Isabel Hospice.>
In support of this fundraising campaign we will prepare or amend basic and mirror Wills without charge but invite you to make a donation to Isabel Hospice instead. Isabel Hospice suggests a minimum donation of £100 for a basic Will and £150 for a pair of mirror Wills. More complex Wills, such as those involving arrangements for trusts, may incur additional charges which will be discussed with you in advance.
To make an appointment or for further information please contact us on 01279 758760 or email >
For information on Isabel Hospice please go to www.isabelhospice.org.uk.
---
Office of the Public Guardian issue new practice note for Attorneys and Deputies
The Office of the Public Guardian (OPG) has updated its legal guidance for deputies and attorneys on the rules about giving gifts to reflect the recent judgements by the Court of Protection. It also explains the approach the OPG will take if deputies or attorneys go beyond their authority to give gifts on behalf of the person they are looking after (the person).>
Gifting is an important part of being a deputy or attorney as making gifts can help preserve relationships with family and friends of the person you are looking after. However deputies and attorneys have limited powers to make gifts and may need the permission of the Court of Protection.
The guidance relates to all attorneys appointed under a registered lasting power of attorney (LPA) for property and affairs or under an enduring power of attorney (EPA). It also applies to deputies appointed by the Court of Protection.>
The guidance covers such matters as:
The principles of gifting and the definition of a gift in law
The capacity of the person to make the gift themselves
Involving the person in the decision if they lack the capacity to decide themselves
Accepting a gift yourself
General rules about making gifts and the exceptions allowed
How to determine if a gift is reasonable
Gifts of property
Who the gift is for
The persons Will
Applying to the Court of Protection if no authority exists
Providing for the needs of others
What happens if an unauthorised gift is made
Deprivation of assets
Deputies and security bonds
The Criminal Law (Fraud)
The full guidance is available by clicking here.
---
Surge in Inheritance disputes
A recent report in The Financial Times reported that there had been a 36% surge in inheritance disputes being brought to the High Court in 2016. 158 claims were brought under the Inheritance (Provision for Family and Dependents) Act 1975, up from 116 such claims in 2015. The reasons for this are thought to include the increasing complexity of family structures, increasing value of estates and more awareness of the ability to bring this type of action. Be sure your estate doesn't fall foul of this increasing trend by ensuring your Will is properly drawn up by a qualified solicitor.
---
Rotary Club of Bishops Stortford Satellite Club Big Quiz
Lever & Co sponsored the Big Quiz held on the 14th September and entered a team of keen quizzers. The night was a huge success with proceeds going to support Mind in Hertfordshire and Parkinson's UK.
---
Stansted 10K Fun Run 2017
Lever & Co sponsored the Stansted 10K Fun Run in support of St Clare's Hospice which took place on the 11th June. The medals presented to all who completed the course where provided by the Firm for the 6th year in a row.
---
Rotary Club of Bishops Stortford Golf Day 2017
Lever & Co were pleased to support the annual Rotary Club fundraising Golf Day which took place on the 11th May 2017. Lever & Co entered a team and attended the fundraising dinner in the evening. Unfortunately the Lever & Co team where unsuccessful this year but the event itself was a huge success. Lever & Co were delighted to be able to help raise £9,670 to support the charitable work of the Rotary Club of Bishops Stortford for another year.
---
Isabel Hospice make a will week 2017
We again took part in the Make a Will Week in March this year to raise funds for the Isabel Hospice. We are pleased to announce that we raised £7,362.50. We are very grateful to all the clients who contributed to this total.